What an exciting time to play with technology and interactive experiences.  We are delighted to be contributing to the Glasgow Film Festival with Sunken Ripples, an experimental interactive installation.  This work is part of the EPSRC SIPS project in collaboration with Pufferfish Ltd.
25th of February, showings at 18:00 and 19:30, Glasgow IMAX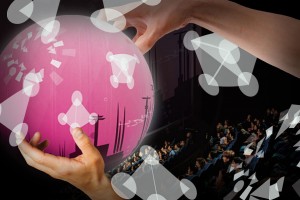 Come experience the exciting cutting edge technology of an interactive spherical display as part of a new kind audiovisual performance. For the first time ever, a spherical display will be joined with the IMAX screen to create an immersive and playful experience in an underwater landscape. Join us in the world of Sunken Ripples, where interaction and touch on the spherical display ripple into huge proportions.
This event is brought to you by the University of Glasgow Public and Performative Interaction Group.
Tickets are available for FREE at the IMAX from 16:00 on the day of the performance.